Last rooms available for 2 - 3 - 4 people with a 20% discount for the ferry
Blue sky above and blue sea below
The Belmare Hotel is on a hillock 120 meters above sea level, and is part of the Tuscan Archipelago National Park.

Thanks to its magnificent sunsets and the breathtaking view both from the terrace and from the rooms themselves, we are certain you will never forget your holiday in our hotel on the Island of Elba.

In harmony with nature
The hand of man has never touched the coast around Patresi, so kayak and snorkelling lovers are always very impressed at how unbelievably unspoiled it is.
On the other hand, mountain lovers have a wide choice of trekking routes around Monte Capanne, from whose summit the vie is breathtaking, and where the perfumes of the very varied flora fill the air.

In the foreground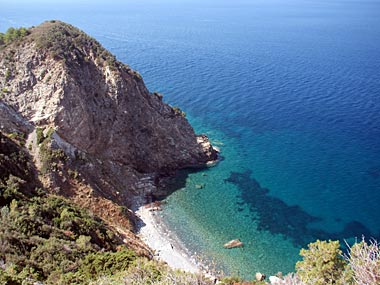 There is a shuttle bus service to and from the major beaches in the area, whether you wish to go to one with fully equipped bathing establishments or one of the quieter, more secluded ones.
Take a look at our webcam with a full view of the sea all around, and the Islands of Corsica and Capraia on the horizon ...
A video includes all the natural beauties of Elba ... the sea, the mountains, as well as all the historical-cultural aspects ...
Offers & News
Book an holiday

Discount for the ferry